Arai Helmets: They Aren't Cheap Because They Aren't Made to Be
Arai Helmets practically brags that their motorcycle helmets aren't cheap. These days, when a company admits their products are expensive, it gets your attention. We live in a world where low cost is king, especially with the economy being like it is. But when you really think about it, have you ever really gotten the best value when you buy things just because they're cheap? Arai's philosophy is that rider safety, comfort and confidence are the most important things and they work hard to deliver. They have a point: Arai makes their helmets to be comfortable all-day every day and have a load of features to make sure it fits right and works right.
With all the things that go into Arai helmets, just figuring out which one to buy can become downright complicated. No other manufacturer of motorcycle helmets focuses on proper fit more than Arai. The human head comes in many different shapes as well as sizes and Arai realizes this by not boiling everything down to size alone. You can't talk about Arai helmets without the need for proper fit and what shape head you have.
---
The Motorcycle Superstore is a great place to buy motorcycle gear online. Click here to see their current deals
on Arai Helmets.
---
In their full-face helmet line, Arai breaks down head shapes into three categories as shown in the image below: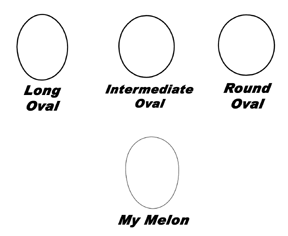 Intermediate oval:
Corsair V: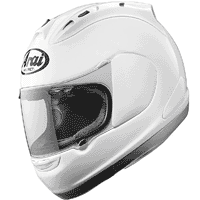 This is Arai's flagship helmet and the one that you'll see atop the heads of the top motorcycle road racers such as Nicky Hayden, Colin Edwards, John Hopkins, and Josh Hayes. The Corsair V has a slew of new upgrades for 2009 that are designed to enhance ventilation and aerodynamics as well as safety for the rider. Features such as an emergency cheek pad release system that allows for easier helmet removal in the event of an accident show the innovation of Arai.


Vector: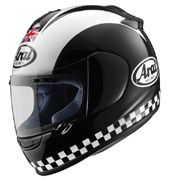 The Vector is one of Arai's best-sellers, and I'm guessing it's due to the relatively low price (2009 suggested retail of $459.95). Of course, they're quick to point out that the price isn't due to lower quality standards or attention to detail. It's a helmet for people who don't need all the latest bells and whistles found on the pricier models. It still has the same single-piece EPS liner that incorporates several different material densities (they say that's good), the same "complex laminate construction" for the aerospace fiberglass shells, and quick-change faceshields. Still not a cheap helmet, but it's the lowest cost of entry to the full-face Arai helmet world. Good news if you have an intermediate oval head, which I apparently don't.
Round Oval:
Quantum-2:

This model is still packed with features, including Arai's aerospace fiberglass technology to give a strong but flexible shell while remaining lightweight. They say their EPS liner technology is unique despite being 20-years-old, and it incorporates several material densities in a single-piece liner. This suggests that they can put different degrees of energy absorbing material right where they need it.

Long Oval: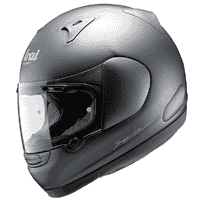 Profile:
The Profile helmet from Arai uses this shape where the rider's head is much longer front-to-back than side-to-side, like mine apparently is. It incorporates many of the same features as the other models, like the fiberglass shell design and vents that pull rather than push air through them in order to maximize air flow. Details like this suggest that they really are putting their money (and therefore, mine) where their mouths are. As with anything in life, you get what you pay for, and I think my brain is worth a reasonable investment.
---
Return from Arai Helmets to Everything Motorcycle's Home Page