Avoid Fatigue and Control Problems With Heated Motorcycle Gloves
You may want to consider heated motorcycle gloves if you like to ride in colder weather than most riders. Or maybe you're a long-haul rider who needs more warmth than regular insulated motorcycle gloves or glove liners can provide. If your hands get too cold while riding it can really be a dangerous situation if they even get a little bit numb. You know it's dangerous out there when the cell-phone zombies aim their cars at you and if it's late Fall, you're probably even further from being on their radar screen. And if your fingers are numb, your feel of the controls won't be as sensitive as normal at a time when you definitely need all the help you can get.
Basically, the heated kind of gloves are purpose-built riding gloves that have wiring and heating elements in them that takes power from a battery pack or your bike's electrical system and warms the gloves and obviously your hands as a result.
There are textile versions as well as ones with leather shells. What they have in common are cords and the need for some sort of power.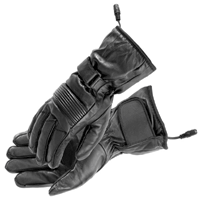 Take this pair of Firstgear heated motorcycle gloves for example. As you can see they have sockets that come out of the gauntlet (wrist) area, which (big surprise!) is where you plug the power into so they warm up. Many riders wear jackets with heated liners or vests that will plug into the gloves. Then you're really cookin'!
If you opt to run the gloves by themselves, you'll need a Y-plug, which runs from the bike or battery pack to each glove. String each branch of the "Y" through the sleeves of your riding jacket and you're good to go.
The plugs and connectors for the gloves and other heated gear should be pretty universal with most consumer brands. You may find that some use their own style of plugs.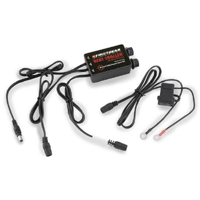 You probably won't want to have the gloves heating away at full-blast all the time, so you'll want to invest in a heat controller of some type. This will allow you to dial the heat up or down as needed. The picture on the right shows a dual controller, which means it has two adjustment dials on it. This lets you control your jacket (or pants) separately from the gloves. For a little less money, you can get a single controller, which adjusts whatever is plugged in to the same setting. If you can afford it, you'll be happier with the dual controller. With some kits you can attach the heat controls by the left hand grip with a piece of Velcro. Or you can stash the controller in a handy pocket in your jacket. You can even find a little pouch that clips to your belt to put the controller in, just like Batman! Sweet!
When considering a pair of heated motorcycling gloves, keep a few things in mind:
Look for a good pair of heated motorcycle gloves that are good riding gloves that just happen to be heated. I discuss general motorcycle gloves here.
If your bike has heated hand grips, try to get a pair of heated gloves that doesn't have a lot of padding on the palm side. This will allow the grips to do their job much better. There are models specially made to be compatible with heated grips.
Don't get a pair that is too bulky. They're heated motorcycle gloves, after all! You don't need as much insulation. Bulky gloves deaden the feel of your hands on the controls also.
Try to get a pair that has a waterproof liner like Gore-Tex or Porelle. This will keep your hands and the heating elements dry if it starts to rain.
Windproof shells made from Cordura nylon or leather is a nice feature also. What's the wind chill at 70 mph on a 34° day anyway?

---