A Motorcycle Calendar Keeps Track of the Days Left Until Your Next Track Day
Having a motorcycle calendar on my wall in my office with a great photo of a great bike or racing moment is my daily reminder of what I would rather be doing. Especially in the middle of winter, it really lifts my spirits and reminds me that riding and racing season will indeed happen again someday.
As I write this, it's time to get a new calendar for the new year and I already know which one I'm going to get, but I thought I'd give you a look at some of the different motorcycle calendars out there.
MotoMatters.com Wall Calendar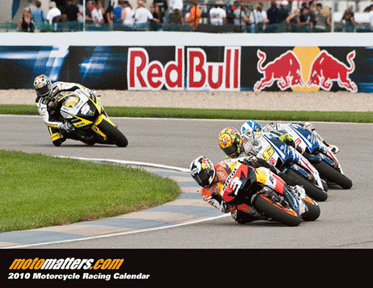 Click image to go to the MotoMatters.com calendar page
This is what I hang on my wall. MotoMatters.com is my go-to site for MotoGP and World Superbike news and information. The site is run by David Emmett, super fan and self-described "cub reporter" on the MotoGP scene. A few short years ago, he was just a fan like the rest of us and one day he decided to start a blog about his favorite sport. Today, that site is a respected clearinghouse for the MotoGP and World Superbike racing series and is read by riders and team owners alike. I've followed it pretty much since the beginning and I recognized right away that his race reports were as good as anything written by professional moto journalists.
As for the calendar, 2010 is the second year that David and resident lens man Scott Jones are publishing one. Now that the site is popular (and presumably pulling in some bucks), David and Scott are able to attend more races and the photography is among the best you will ever see. It's only available from the MotoMatters.com site, so you definitely won't run across this one in stores.
It is arranged Monday through Sunday across the top, which is a bit strange for us here in the States, but it highlights the race weekends really well, which is obviously what it's all about. The 2010 edition is bigger than last year's at 12" x 18-1/2" (flat), is printed on 80 lb stock and is treated to a high gloss varnish coat to make the images stand out even more.
And this year, the boys are donating 10% of the proceeds to Riders for Health which, in case you don't know, is a charitable organization that uses motorcycles to get health care supplies and medicines to poor people who are isolated by distance or terrain. Is there a better way to use a bike?
Fast Dates Motorcycle Calendar
I've had the Fast Dates calendar in past years also. This one is a pin-up calendar with the lovely ladies posing next to and rubbing up against some of the tastiest race bikes around. The photography here is top-shelf as well, and if you're in the market for a babes and bikes type calendar, this is the one to get for sport bike fans.
I don't know if they still sell this one in stores, but I know you can snag one from Amazon.com.
---