Sidi Motorcycle Boots: Top-Shelf Foot Protection for the Thinking Motorcyclist
Sidi motorcycle boots are some of the best protection you can buy for your feet. Sidi is one of just a few brands that I would have on my list of motorcycle boots to buy. They are high-priced pieces, but most of the components on them are replaceable, such as the shin plates on their top-of-the-line racing boots. Even more so than on other brands.
And since Sidi is an Italian company, you're not going to find "cruiser" boots here. They do sport/racing, touring (not the same as cruiser boots) and off-road motorcycle boots. They're also heavy into technical bicycling shoes, so they're knee-deep in the two-wheeled world.
Here's a quick sampling of what Sidi motorcycle boots have to offer.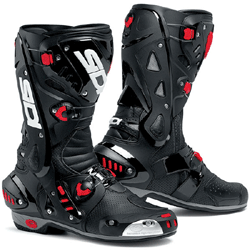 Sport/Road Racing Boots
Sidi's top-of-the-line sport/road racing boot is the Vortice series. These boots are as high-tech as they look. They have a nylon shin plate installed on a polyurethane (PU) support. The shin plate is removable for replacement. They also have a clever calf, shin and instep tensioner to customize the fit to the rider's foot and leg. There's also a shock absorber in the heel that allows 3 mm of movement on impact. Once again, this spreads the impact over distance and time to minimize the energy transferred to the rider. The sole even has a removable panel in the ball area to allow replacement after metal footpegs, shifters and rear brake pedals gouge them up. The ankle support system allows flexing backward and forward, but gives side-to-side support, and also has air intake ducts molded into other structures like the toe slider to let your feet breathe.
With all the replaceable bits, these boots are definitely designed for long-term ownership. And for well north of $400 a pair, they should be. But as I've said before, how much is your body worth?
Touring Boots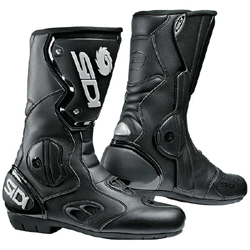 The Sidi Strada touring boot has been around for a number of years and is one of the best-looking motorcycle boots you can buy in my opinion. The upper is made from a microfiber material called Lorica, as found on many Sidi motorcycle boots. They're lined with "water-resistant" material (doesn't mention Gore-Tex, but does mention something called "Zerosweat" that allows sweat to make its way out). The shin plate is made from thermoplastic polyurethane (TPU), which means it's tough, impact and abrasion-resistant plastic as far as we're concerned. The ankle area is padded with memory foam for comfortable fit as well as impact protection. Other features include a reflective rear insert, zipper and Velcro closure. The "Mega Gore" model has Gore-Tex membrane incorporated into the liner, apparently making it more waterproof than the standard "water-resistant" material.
---